SUMMER 2014 CAMPS
<![if !vml]>
<![endif]>
FOSSILS OF THE CRETACEOUS INTERIOR SEAWAY OF SOUTH DAKOTA
<![if !vml]>
<![endif]>Eighty-million years ago, during much of the Age of Dinosaurs, South Dakota was covered by a shallow inland seaway. Join us to help document fossil discoveries; including marine reptiles, pterosaurs, gigantic fish, sharks and baculites; while surveying along the Missouri River. Enjoy the beautiful South Dakota prairie, where we will be working in the gorgeous cliffs of the Niobrara Formation, and the rolling hills of the Pierre Shale. Led by Dr. Darrin Pagnac and Dr. Clint Boyd. Camp is based out of Chamberlain, SD, with camping, dining and lodging services readily available. Additional facilities are available in nearby Oacoma.
Cost: $1200 undergraduates, $1300 graduates
Two sessions available:
SESSION TWO FULL
Session 1: July 28 – August 8, 2014
Session 2: August 11 – August 22, 2014
Price DOES NOT include meals or lodging.
Students are responsible for transportation to Chamberlain and for arranging lodging.
A few lodging options in Chamberlain SD include:
American Creek Campground: http://www.americancreekcampground.net/
Best Western Lee's Motor Inn: http://book.bestwestern.com/
AmericInn Chamberlain: http://www.americinn.com/
For more information contact:
Darrin Pagnac (605) 394-2469
---
Red Lodge, Montana; July 13 - 26 and July 20 - August 2, 2014
Cost: $2,700 for undergraduates, $2,900 for graduates. Fees include tuition, all meals, and lodging.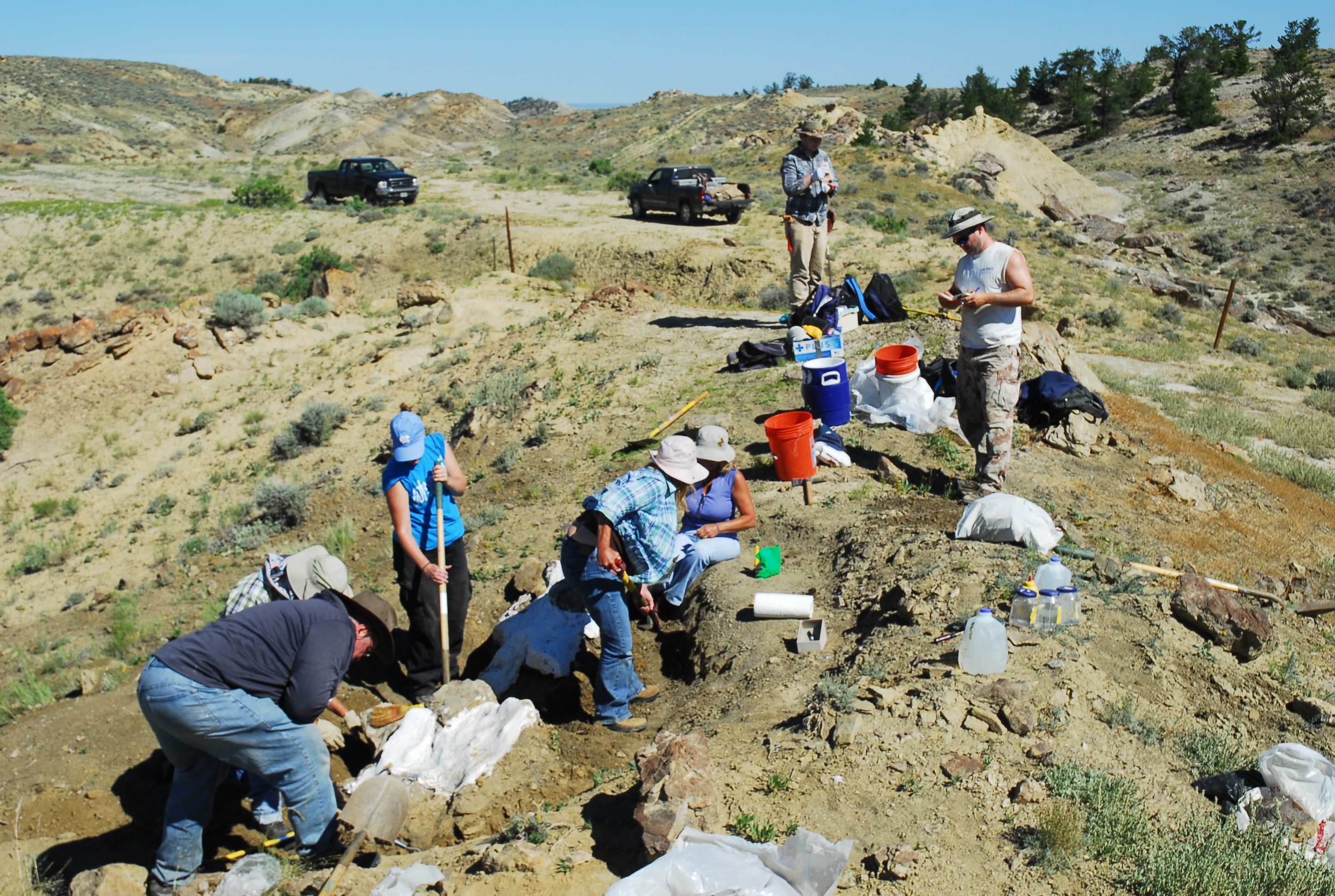 The New Jersey State Museum's 2013 Paleontology Field School experience will focus on collecting and documenting vertebrate fossils, such as dinosaurs, crocodiles, turtles, fish, and mammals in the continental rocks of both Late Cretaceous and Paleogene age in the northern portions of the Bighorn Basin in northern Wyoming and southern Montana. Other opportunities may arise, such as collecting at Devonian, marginal marine fish and plant fossils from Beartooth Butte or Eocene mammals at Tatman Mountain. The course is lead by David C. Parris (Curator of Natural History, NJSM) and Jason P. Schein (Assistant Curator of Natural History, NJSM).
For more information or to register, please contact Jason Schein