Introduction: The Miocene marine deposits of the Taranaki and East Coast basins are spectacularly exposed along the western and eastern coasts of the North Island, New Zealand. This is an opportunity to learn about the stratigraphic evolution of shelf, slope, base-of-slope, and basin-floor volcaniclastic and siliciclastic assemblages that can be traced offshore to producing oil and gas fields. The processes of sedimentation and stratigraphic architecture of predominantly fine- to very fine-grained channel-fill, levee, lobe (overbank, avulsion, frontal, and crevasse types), and seismic-scale mass-transport deposits will be featured from slope to basin floor, and will include visits to the Mohakatino (basin floor), upper and lower Mount Messenger (slope to base of slope), and Urenui (shelf to slope) formations in the Taranaki Basin, and the Mapiri Formation and Hikuwai Sandstone in the East Coast Basin. This allows participants to compare and contrast the complex basin architecture and deposits in both hybrid foreland and forearc basins. Key methods pertaining to source-to-sink sediment transport and sequence stratigraphy will be emphasized throughout the course. Participants will be introduced to geologic risks in oil and gas drilling including reservoir presence, reservoir deliverability, trap, and seal presence, as well as recent publications on these New Zealand basins featured in numerous PhD dissertations and the research journals Marine and Petroleum Geology and AAPG Bulletin. These outcrops have been applied as analogs for decades to help understand the subsurface geology in both active and passive margin settings.
Key mapping exercises will emphasize preparation of stratigraphic columns, geologic maps, structural cross sections, and completion of formal reports. Successive projects will involve greater geologic complexity, and one project will emphasize the assessment of petroleum resources. Practical applications to resource exploration and development (i.e., new ventures, exploration, development and production of oil and natural gas) are emphasized. These skills are also extensively used for mapping the subsurface in the broad field of environmental sciences. This course is aimed at students wishing to pursue careers in sedimentary geology and geophysics.
This course will give participants an understanding of the broad scope of predominantly fine-grained deep-water depositional systems.
By the end of the course, participants will be able to:
Describe transport and depositional processes of deep-water rocks including turbidites, debrites, and transitional to hybrid flow type deposits.

Understand the stratigraphy related to passive and active margin depositional systems including terrestrial, coastal, shallow-marine, and deep-marine depositional environments.

Characterize and interpret the different types of marine depositional environments (outer shelf, deltaic to deep-water canyon, channel, levee, lobe, overbank) and their implications.

Describe and apply the Miocene regional chronostratigraphy of the Wai-iti Group.

Understand both plate tectonics and lithospheric architecture and their roles on the development of retroarc foreland, hybrid, and forearc basin depositional systems.

Recognize sediment transport and depositional processes in deep-water depositional environments, and competing models for Taranaki and East Coast basin sedimentation.

Characterize deep-water clastic stratigraphic intervals and build relationships with depositional environments using outcrop (and play fairway mapping, risk and uncertainty analysis, gross depositional environment mapping, and oil and gas exploration methods using outcrop, (and behind-outcrop core), core, and other industry data.

Conceptualize and apply source-to-sink transport and sequence stratigraphy to marine sediment delivery.

Use lithofacies and stratigraphic architecture to understand variations in deep-water reservoir properties pertaining to reservoir presence, reservoir quality, and seal presence.

Apply predictive attributes to deep-water reservoirs in the context of reservoir development, with special attention to stratigraphic trapping mechanisms.

Apply skills in seismic interpretation, reservoir characterization, core analysis, geophysical log interpretation, sequence stratigraphy, play fairway mapping, risk and uncertainty analysis, gross depositional environment mapping, and oil and gas exploration methods.
Prerequisites: Sedimentology, stratigraphy, mineralogy, petrology, structural geology, geophysics is helpful but not required. Exceptions considered on request.
Physical demands: Field work will involve mapping remote areas and will include daily hikes of considerable length. Students should be physically and mentally prepared for work in coastal and mountainous terrain in and around the areas of Taranaki, Wanganui, East Cape, Wairarapa, and Wellington.
Climate: Weather on the North Island during the summer months is generally fine. However, participants should be prepared for hot days (90° F / 32° C), and cold, rainy weather (45° F / 7° C) during storms. Participants should respect the variability in the daily tides and frequently changing weather patterns in the mountains.
Facilities: Lodging for the program will be cabin camping in holiday parks equipped with modern shared facilities. Our accommodations will roam with us, from the New Plymouth area, to Tongariro, to Tolaga Bay, to Cape Palliser and finally, to Lower Hutt. Students will need to supply their own bedding (sheets, or sleeping bag).
Other required equipment: Basic geology tools including hammer, hand lens, write-in-the-rain notebook, map case, colored pencils, Brunton compass (or equivalent) tuned to the declination of the southern hemisphere. Students will need a laptop for written reports. Suitable clothing for working in hot, coastal environments and cool, mountainous environments including wide-brimmed hat, sun-proof shirts and pants, sturdy boots, and appropriate socks is required. A complete and detailed equipment list will be provided for participants ahead of the camp
<![if !vml]>
<![endif]>
Select images of the Taranaki and East Coast basin field mapping areas including Rapanui Stream, Awakino, Cook's Cove, and Urenui. The majority of the mapping will occur along the coast of Taranaki and East Cape, where the outcrop exposures are exceptional.
<![if !vml]>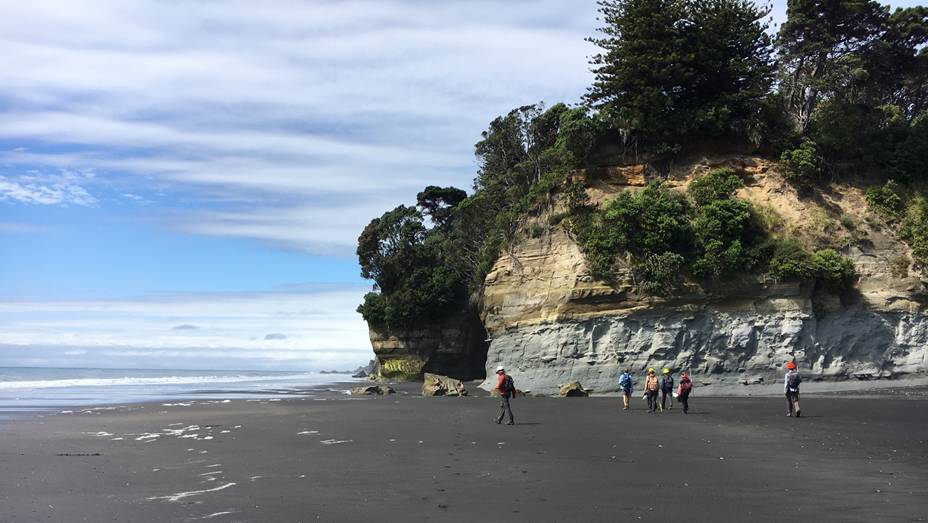 <![endif]>
Turbidites, debrites, and hybrid event beds are common deposits that accumulate in deep-water environments and are the products of diverse sediment gravity flows. Because of their variable porous and permeable nature, these deposits also form reservoirs around the world in active and passive margin settings. Mapping and interpreting their characteristics using first principles helps to build depositional models.
<![if !vml]>

<![endif]>
View south from Tongaporutu River of the Upper Mount Messenger Formation outcrop exposures in the 250-m-tall Whitecliffs. These deposits are interpreted to represent a submarine apron near the base of slope. These marine depositional systems will be compared and contrasted with perched, ponded, and stepped continental slopes, as well as variations of submarine fans including fan valleys and unconfined fans during this field course. Mt Taranaki is in the distance (far right) with a cloud at its summit.
<![if !vml]>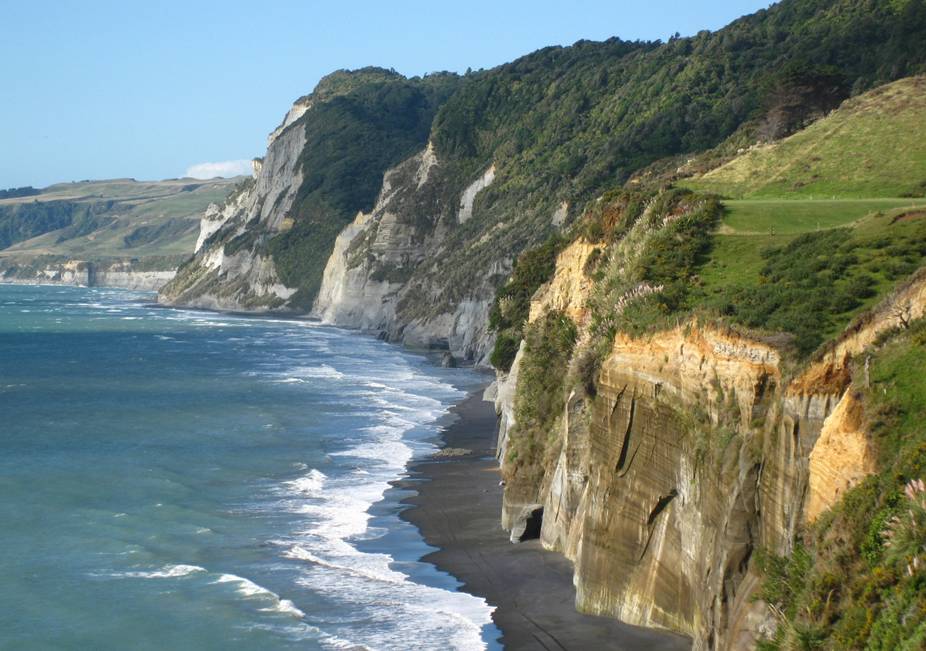 <![endif]>
View from a Maori settlement known as a pā overlooking the black-sand Pukearuhe Beach and the Tasman Sea, North Island, New Zealand. Pukearuhe Beach is one of the prime outcrop locales to observe the deep-water slope deposits of the Miocene Mount Messenger Formation and is located approximately 40 km (25 mi) northeast of New Plymouth. This channel–levee and overbank succession is comprised chiefly of turbidites and extends into the subsurface of the Taranaki Basin where it has been a producing interval in several oil and gas fields for decades. Today, the deep-water Miocene outcrops exposed along the coast of the Taranaki Basin serve as valuable analogues for other fine-grained, heterolithic, poorly indurated, litharenite petroleum reservoirs around the world.
<![if !vml]>
<![endif]>
The seismic-scale mass-transport deposits (MTD) of the Miocene Mohakatino Formation provide a unique window into the architecture of these contorted and overturned masses of sandstone, siltstone, and mudstone. MTD result from the largest sediment movements on Earth, and form upwards of 50-70% of some continental margins and about a quarter of all continental slopes on average. Deep-marine environments represent the final resting place for sediment on Earth and are important to understand as the ultimate sink for a number of elements including organic carbon.
For more information, please contact:
Dr. Jon R. Rotzien
Basin Dynamics
1875 Post Oak Park Drive #819
Houston, TX 77027
(650) 862–0574
or
Dr. Nuri Uzunlar
Director, Black Hills Natural Sciences Field Station
Professor, Geology and Geological Engineering Department
South Dakota School of Mines and Technology
Phone: (605) 431-1275