Location: A small village called Amskroud at the heart of the Atlas Mountains about 224 km south of Marrakesh Menara Airport, Marrakesh, Morocco and 40 km from Agadir Al Massira Airport, Agadir Morocco.
Introduction:
The Atlas Mountains are part of a mountain chain in northwest Africa that stretches from Morocco to Tunisia. The Atlas Mountains first formed during Alleghenian Orogeny (~ 300 Ma) when Africa and America Plates collided, which also formed part of the Appalachian Mountains in North America. Next, their formation was influenced by onset rifting of the supercontinent Pangaea due to the extension of the Earth's crust during Mesozoic (~220 Ma). This tectonic event also formed large continental basins including Argana Basin and its North American counterparts, the Newark Basin (USA) and the Fundy Basin (Canada). Finally, during Paleogene and Neogene periods (~ 66 to 1.8 Ma) uplift created the modern mountains we see today in north Africa due to movement of Africa toward Europe. This collision is the same tectonic conversion that formed the Alps and Pyrenees in southern Europe.
This field camp will be focused on mapping Permian, Triassic, and Cretaceous sedimentary and igneous rocks of the Argana Basin in southern Morocco. This includes mapping stratigraphic units that record the transition from the end of Permian mass extinction and the opening of the Atlantic Ocean and Oceanic transgression during Cretaceous. These strata are terrestrial red beds, marine carbonates and basalt of the Argana Basin which have been correlated to the lacustrine and marine deposits of the Newark and Fundy basins in the USA and Canada, respectively. These units represent deposition environment changes from alluvial fans, braided rivers, meandering rivers, flood plain, aeolian dunes, lacustrine and tholeiitic basalt deposits overlain pre-late Permian schist, quartzite, limestone and granite.
In addition to extraordinary geology, you will have the opportunity to take in the magnificent culture of Morocco through local and regional interactions coordinated by the Moroccan-native instructor.
Prerequisites: completion of junior year of study, Physical Geology, Mineralogy, Petrology, Stratigraphy/Sedimentation, and Structural Geology, or consent of the Director
Physical demands: We will be hiking and walking for most of the day and this requires you to be in good physical shape and good health.
Climate: Moderate to subtropical, coastal regions are cooled by breeze from the Atlantic Ocean and the Mediterranean Sea. To the interior, hot temperatures during summer and cold in the winters. More arid climate to the south at the foothills of the Sahara Desert.
Textbooks: Geologic Field Techniques (1st edition) edited by Angela Coe;
ISBN-13: 978-1444330625
http://www.amazon.com/Geological-Field-Techniques-Angela-Coe/dp/1444330624
Required Field Equipment*:
Two hard cover rite in the rain or similar field notebooks
Good Rain Gear (doubles as a jacket)
Water proof hiking boots
Good boot socks
Geologic rock hammer, belt, hammer holder
Hand lens (10x)
Clip/map board
Daypack and/or field vest for carrying supplies
Two 1L Water bottles
Protractor and straight edge (marked off in SI units)
Pocket knife
Grain size chart
Acid bottle
Safety glasses
Laptop computer
European electrical adapter (cheap $2 from Wal-mart work better than more expensive ones)
Sunscreen
*A more detailed list will be provided after you sign up for camp.
Field clothing: Field Pants (most projects do not lend themselves to denim jeans, shorts, or leggings); Comfortable boots (see above); fleece jacket for layering; wide brimmed hat; thin, light, breathable clothing that can be added or subtracted according to conditions.
<![if !vml]>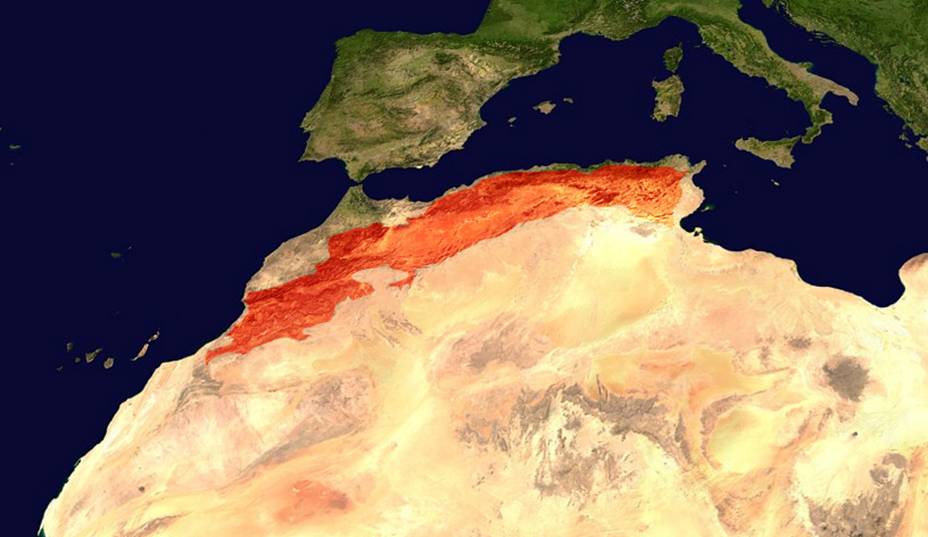 <![endif]>
Topographic relief map of Atlas Mountains and its different subdivisions in north Africa.
<![if !vml]>
<![endif]>
Geological map and stratigraphic column of western Atlas Mountains, Argana Basin, southern Morocco. Map from Soulaimani and
Ouanaimi, 2007.
<![if !vml]>
<![endif]>
Permian red beds and Central Atlantic Magmatic Province (CAMP) basalt of the Argana Basin, Morocco. These posits represent end of Paleozoic mass extinct.ion, onset of breakup of Pangaea and marine transgression during Cenozoic. Photos from El Hachimi et al. 2011
For more information contact:
Dr. M'bark Baddouh
Term Assistant Professor
Department of Atmospheric, Oceanic and Earth Sciences
George Mason University
4400 University Drive
Fairfax, Virginia 22030
(608) 957–9973
mbaddouh@gmu.edu
or
Dr. Nuri Uzunlar, Director, Black Hills Natural Sciences Field Station
Professor, Geology and Geological Engineering Department
South Dakota School of Mines and Technology
Office Phone: (605) 394 - 2494 ; Cell: (605) 431-1275