Introduction: The scenic Montana Rockies expose classic thrust structures of the Cordilleran foreland. This 5-week field course focuses on geologic mapping and cross-section construction of imbricated thrusts in Paleozoic platform and Mesozoic foreland basin strata. Four weeks will concentrate on mapping well-exposed structures in southwest Montana, where thrust structures involve syntectonic conglomerates, volcanics, and intrusives. Some thrusts were reactivated by basin-range extensional faults in the border zone of the Yellowstone hotspot.
Prerequisites: Physical geology, mineralogy and/or petrology and structural geology required; volcanology helpful but not required.
Projects: Students will measure and describe stratigraphic sections to gain familiarity with Paleozoic and Mesozoic formations of the Montana Rockies. They will map Mesozoic folds and thrusts that deform these formations, as well as Cretaceous sills and stocks that intrude them. They will map interference structures between thrust faults and uplifts of Precambrian basement rocks.
Students will also map and examine field relations of deformed Neogene basin deposits that record a dynamic depositional, volcanic and tectonic history of the Montana Rockies in the border zone of the Yellowstone hotspot track.
Students will develop skills for making geologic field observations and constructing geologic maps in the field. Students will learn techniques for measuring stratigraphic sections, collect structural data in the field, construct geologic cross sections, conduct simple structural analyses from the field data, and interpret geologic history from both stratigraphic and structural relations examined in the field, and regional tectonic relations that we will review as a group from the literature.
Students will have the opportunity to learn mapping techniques using topographic base maps, aerial photographs, and GPS units in the field.
Physical Demands: Fieldwork will involve traversing rugged and steep terrain. Some projects may include demanding hikes of considerable length and elevation gain. Students are expected to be physically and mentally prepared to work in these conditions.
Facilities: Lodging during the first week of the field course (May 25 - June 1) will be in dormitories of the University of Montana, Western, in Dillon, Montana. There you will have access to cafeteria food services, cell phone service, wi-fi, and shopping. During the final four weeks, lodging will be in a rustic barracks at UM Western's Birch Creek Center in the Pioneer Mountains, about 20 miles from Dillon. The Birch Creek Center (BCC) is an original Civilian Conservation Corps (CCC) facility from the 1930's, and features bunk beds in bunkhouse cabins. Showers are available, bedding is not provided and you will need a sleeping bag. Camping is available for those who ate interested. There is a building on the premises with cafeteria service and access to tables for drafting and writing. The BCC 12 12 miles up a gravel road from the highway to Dillon. there is no wi-fi and limited cell phone access at the BCC, so be prepared for living conditions isolated from social media. We do travel through Dillon many field days on our way to project areas, and students can contact the outside world from Dillon.
Climate: Springtime weather in the Montana Rockies is capricious. Days can be warm and pleasant, but cold weather is not that uncommon, and nights are cold. Students should expect variable conditions with the potential for cold, windy, and wet weather. About half of our field studies will be at slightly higher (i.e., cooler) elevations. The average highs are low 60ís to high 70ís ˚F; the average lows are mid 30ís to mid 40ís ˚F. Solar radiation is intense at the higher elevations (up to ~ 7,000 feet). Days can be warm and pleasant and even hot.
Textbooks: Geology in the Field, 1985, Robert R. Compton (Note: This text is now out of print, so please try to find on online if you don't have it already. It's out of date in some respects, but it's still about the best field manual out there).
Field Equipment: Geologic rock hammer and hammer holder
Hand lens (10x)
Mechanical and colored pencils (#2 lead (or harder) and variety of colors), (2) Pilot extra fine (0.5) black RT pens
Weatherproof geological field notebook(s)
Daypack and/or field vest for carrying field supplies
H2O bottles
Clip/map board
Protractor and straight edge
Pocket knife (good for a lot of things as well as a scratch test tool)
Grain-size chart
Dilute HCL
Safety glasses
Calculator
Good quality digital camera (with downloading capabilities)
Laptop computer
Sunscreen
Lip balm
Sunglasses
Field clothing: Sturdy hiking boots (mandatory), Rain jacket, Fleece jacket (idea is to dress in thin, light, and breathable layers that can be added or subtracted according to conditions) Light-weight leather work gloves, Field hat (full brim)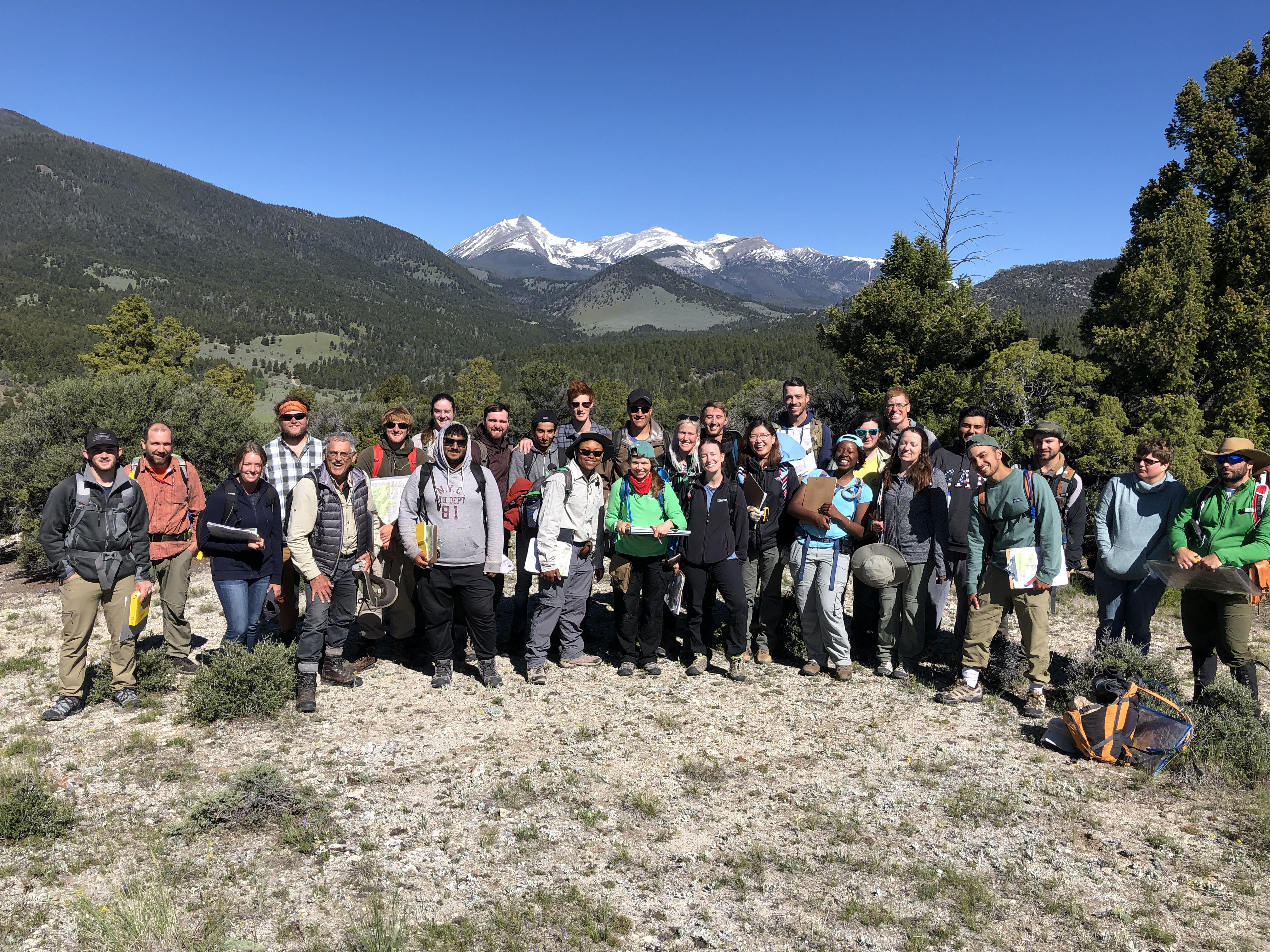 2018 Group photo
For more information contact:
Dr. James Sears, Montana Camp Coordinator
Geosciences Department
University of Montana
Missoula, Montana 59812
Phone: (406) 243-2341
or
Dr. Nuri Uzunlar
Director, Black Hills Natural Sciences Field Station
Professor, Geology and Geological Engineering Department
South Dakota School of Mines and Technology
Phone: (605) 431-1275