Introduction to Course: The Alps form a crescent shape mountain belts that extends ~1200 km, which are the highest and largest mountains in Europe. The mountains formed during the Alpine orogeny in the Cenozoic as a result of continental collision between African and European tectonic plates. The tectonic process involved extensive crustal deformation of Mesozoic and Cenozoic strata, exposed today as some of the most-well known examples of folds, thrust faults, and duplexes. Cenozoic strata deposited during tectonic uplift are also world-famous with thick accumulation of marine and continental sediments known as flysch and molasse, respectively.
This 3-week field course emphasizes field techniques, geologic mapping, and cross-section construction in a variety of classic Alpine geological settings in southwestern France, including some of the highest peak in French Alps. Students will spend 3 weeks (4 credits) working in the southwestern French Alps. We will start in the external parts of the fold-thrust belt with progressively more complex stratigraphic and structural exercises and move to the internal parts of the Alps with highly deformed metamorphic rocks, duplexes (nappes), and crystalline massifs. Lectures will include lessons on field mapping techniques emphasized on thrust belt geology and tectonic evolution of an orogenic belt, using the world-famous French Alps as our study site.
This field camp is an international collaboration between South Dakota School of Mines & Technology and the Université Grenoble Alps. The course will be taught all in English. Students will experience world-class Alpine geology, French culture, mountain and rural sceneries of the French Alps, as well as a cultural exchange opportunity between U.S. and French students/colleagues.
Projects: During the first 2-weeks, we will be working in the external and lower part of the Alps of Haute Provence near the area of Digne-les Bains. Key exercises will emphasize on making sedimentological descriptions, measuring stratigraphic sections, and mapping multiple structures within adjacent sites. Students will start by learning the Mesozoic-Cenozoic strata through measuring stratigraphic sections. They will be expected to draft and synthesis a stratigraphic column and a report of the geologic history. A refresher introductory 1-day mapping exercise will help students recognizing common structures in thrust belts (folds and faults). Subsequently, students will map multiple sites based on topographic/satellite maps and examine larger-scale structures that deform much of the same strata observed and measured in the first few days. Students will be expected to turn-in maps, cross sections, and a report.
The third and final week, we will be moving the field camp station to Argentière-la-Bessée, working within the internal and higher part of Alps. The mapping exercise is located within the Parc National des Ecrins, which hosts the second highest mountain in France (Barre des Ecrins – 4102 m). Student will map new rock units and structural relationships associated with major duplexes and faults. In addition to sedimentary rocks, students will learn to identify metamorphic and igneous rocks in their mapping exercise. Students will be expected to turn-in a map, cross section, and a report.
Prerequisites: Structural geology, stratigraphy/sedimentology courses. Mineralogy and petrology (preferred but not required).
Physical demands: Field work will involve mapping both in rural and mountainous regions, with proximity to small villages. Exercises will require daily hikes of considerable length and relief. Some days hiking will consist of small country roads, trails, river banks, or roaming across the high Alpine pastures. Students should be physically and mentally prepared for mountainous terrains ranging between 800 m to 2400 m (~2600-8000 ft).
Climate: Weather in July is the prime season for hiking in the Alps but can be highly unpredictable. In the first two weeks, we will be working in the southern Alps of Haute Provence which is typically dry and warm ranging between ~70-90° F (21-32° C). In the last week, we will be working at higher elevations near the Parc National des Ecrins, where thunderstorms are common with temperatures ranging between 60-80°F (15-27°C). Participants should be prepared for hot weather, occasional rain showers and cool evenings.
Facilities: Lodging will be in rural Bed and Breakfasts, known as "gîte rural" or "gîte de montagne". These gîtes provide shared accommodation for tourists and groups usually in historic properties within small villages or more remote locations, with modern amenities as well (wifi, electricity, showers, restaurant). These accommodations provide a fantastic opportunity for an authentic French high-quality culinary experience, where all meals are prepared fresh with local products by the gîtes caretakers, in a friendly atmosphere that characterize this region of France.
Required equipment: Basic geology tools including hammer, hand lens, field notebooks (forestry, write-in-the rain), map board or map case, colored pencils, Brunton compass and GPS (please borrow from your school geology department, otherwise we can provide arrangements). Students will need a laptop for written reports. Suitable clothing for working in hot and cool mountains environments, including a sun hat, appropriate clothing, sturdy boots, and sufficient hiking socks are required. A complete and detailed equipment list will be provided for participants.
How to get there:
By Plane: Best and most economic option is a round trip ticket to Paris or other major cities in Europe (e.g. London, Dublin, Amsterdam, Madrid), then booking separate flights to Lyon (closest airport to Grenoble). Airport buses at the Lyon airport terminal (Ouibus) provide easiest connection to Grenoble. An alternative airport is Marseille-Provence, which also provides trains/buses connection.
By Train:
If you will be doing sightseeing before or after the field camp, Grenoble is very well connected by train to most cities. A high-speed train (TGV) provide the fastest connection between Paris and Lyon, and a regional train connects Lyon to Grenoble. Similarly, TGV connects Marseille-Provence to Lyon. Best deals on high-speed trains are booked in advance. Otherwise, all train tickets can be booked at reasonable fares directly at the train stations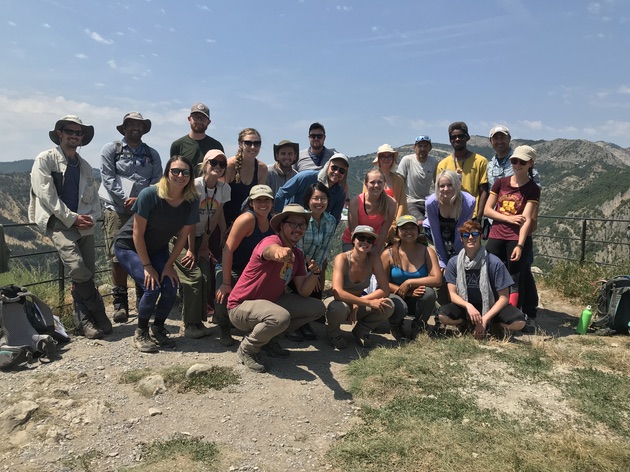 View of a valley in the Ecrins National Park "Parc des Ecrins" with pre-Alpine Massif which makes most of the high elevation (left and center) being thrusted over by the Penninic thrust carrying the Briançonnais Nappes of Triassic-Cretaceous units (far right).
Town of Argentière-la-Bessée, famous locally for the historic mining heritage of silver. In the background is the Massif des Ecrins. This town will provide our base camp for the final week in the high Alps.
Panoramic view of the Velodrome exposed as a structural window showing in the center highly folded Oligocene-Miocene marine and continental sediments in the external southern Alps.
One of our main accommodation at the Gîte Robine-sur-Galabre near Digne. The place is a newly restored rural château.
Example of the study area that you will see during the field camp, including rich fossils sites in the Jurassic-Cretaceous such as Ammonites (upper left), Ichthyosaur, brachiopods, bivalves, crinoids; numerous examples of marine and continental sedimentary structures such as mass movements scour and grove marks in Cretaceous turbidities (upper right), cross beds, ripples, mud cracks, graded bedding, flaser bedding, etc.; well exposed outcrops within picturesque deeply incised canyons (lower left) or towering rock formation (lower right).